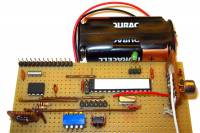 Informācija par Autolistes kontrolpunkta iekārtu
Iegultā iekārta sastāv no šādiem galvenajiem mezgliem:
Atmel Atmega 328p mikrokontrolieris, kas darbojas ar 8MHz takts frekvenci no 2 AA tipa baterijām;

NXP PCF8593P reāllaika pulksteņa I2C mikroshēma precīza laika kontrolei;

Atmel AT24C64C 64KB EEPROM atmiņas I2C mikroshēma datu uzglabāšanai;

uz tranzistoriem bāzēts FM SRD raidītājs, ko vada mikrokontrolieris.
Kontrolpunkta iekārta ir daļa no kopējās Autoliste pasākumu vadības sistēmas, kas aprakstīta zinātniskajā publikācijā "Heterogeneous Tool Kit for Real-Time Edutainment".
Information about checkpoint hardware device developed for Autoliste
Embedded device that consists of following main components
Atmel Atmega 328p micro controller that works with 8MHz clock crystal and powers from 2 AA type batteries;

NXP PCF8593P real time clock I2C chip to control timing of events;

Atmel AT24C64C 64KB EEPROM I2C memory chip for data storage;

transistor based FM SRD transmitter driven by micro controller.
Checkpoint device is part of Autoliste event control system that is described in scientific paper "Heterogeneous Tool Kit for Real-Time Edutainment".
autolistes_dveselite.txt · Last modified: 2012/07/23 00:58 (external edit)